Preventive Care
We practice a preventive model of dentistry so we can avoid tears and tantrums down the road—because prevention really is the best medicine.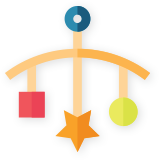 Calming Sedation
If your little one is afraid of the dentist or has trouble receiving dental care for any reason, we are happy to offer calming sedation options.

Restorative Care
Whether they ate too many cookies or stood too close to the piñata, we provide comprehensive restorative care to bring their smile back.